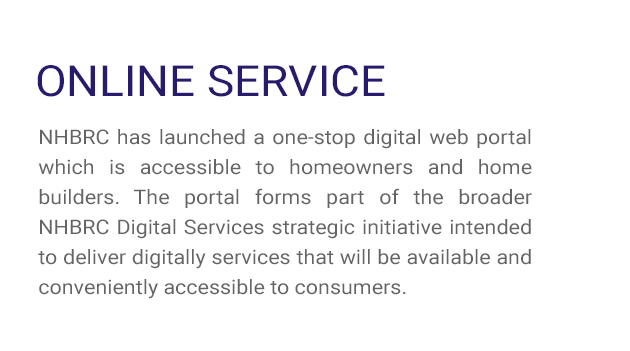 NHBRC has launched a one-stop digital web portal which is accessible to homeowners and home builders.
The portal forms part of the broader NHBRC Digital Services strategic initiative intended to deliver digitally services that will be available and conveniently accessible to consumers.
The services offered are Registration, Renewal and Lodging of Complaints.
EXPERIENCE OUR ONLINE SERVICES
AUGMENTED REALITY
DIGITAL SERVICES OBJECTIVES
The implementation of these online services will improve real-time customer engagements, manage huge volumes of queries coming from our consumers, and also improve customer relations.
The main objective is enhancing customer convenience and ease of compliance to Registration, Renewal and Lodging Complaints requirements.
NHBRC segmented digital services will meet the specific needs of home builders, homeowners and various stakeholders.
THE BENEFITS OF OUR ONLINE SERVICES
1
Customer conveniences.
2
Operational quality services.
3
Good corporate governance.
4
Quick turnaround times.
5
Good customer services & responsiveness.
DIGITAL SERVICES
The Digital Services Solution is aimed at providing basic foundation for Home Builders, Homeowners and Private/ Government Entities to conduct Online Self-Services with the organisation. NHBRC now offers these online services: