Unisa's online registration process is quick, simple and accurate. When registering online, you'll be prompted when information is missing or incorrect, helping you to ensure that you include all the necessary information when submitting your registration form.

The steps are as follows
Go to the Unisa registration website: http://registration.unisa.ac.za
Choose the qualification level and then click "Go".
Enter your student number in the block provided and the other details as required. (If you don't have a student number you won't be able to continue. You'll need to apply online for admission. During this process, a student number will be generated and communicated to you.)
Check your personal details on screen. Change any contact details that are missing or incorrect. It is very important to provide your correct address and cellphone numbers. Incorrect information may delay the delivery of your study material and prevent you from receiving important information from the university.
Click on the modules from the drop-down list for which you want to register. Ensure that you meet all the qualification requirements for your selected modules. You must

meet all the pre-requisites and co-requisites for the selected module
enter the correct module code
select the correct semester (1 = first semester; 2 = second semester)

* The language of tuition for each module is indicated in the module information.
Do not exceed the prescribed number of modules per semester or year, as this may result in a delay in your registration being processed. Unisa retains the right to remove modules based on the number of credits allowed per semester and in accordance with the fees paid. Please take note of the maximum period of time you have to complete your qualification.
Calculate your fees

Use the fee quotation link on the Unisa website (http://www.unisa.ac.za/feequote) to obtain a quote for the cost of your modules.
Note the minimum fee that must be paid before Unisa will process your registration. If these fees are more than you can afford, remove modules until you can afford the fees.
You can make payment online, using a credit card at http://www.unisa.ac.za/feepayment.
If you don't have a credit card, you can pay at a First National Bank branch. Retain your proof of payment in case of enquiries.

Submit your registration.

Study pack delivery options
At the point of registration, you will have two delivery options to choose from for your first study pack for the semester, should you wish to receive study material:

1. Courier
Please provide Unisa with the following:
a valid and active cellphone number
an alternative and valid contact number (in case we can't get hold of you via your cellphone number)
a valid and correct courier / physical delivery address
In an effort to ensure that study material packs are delivered on time to the right student, Unisa requires the student (or a designated person) to present proof of identity and provide a contact number to the courier company.
This information, together with the recipient's signature, will be captured on the courier delivery form to ensure that study material packs are delivered timeously and to the correct student.

2. Post Office
Provide Unisa with a correct address, suburb and postal code, and a valid and active cellphone number. It is very important that you collect your study material from the Post Office as soon as you receive the notification SMS. It is your responsibility to collect your study material.
What should I do if I don't receive the notification SMS?
If you don't receive the notification SMS within 10 days of your registration being finalised, please enquire at your local Post Office.
If your study pack is not available at your local Post Office, please contact Unisa's Despatch Division urgently

Please note:
This delivery option only applies to your first study pack. Subsequent material will be sent via ordinary mail service from the South African Post Office. Once you have registered, you must register on myUnisa. This will enable you to access your study material online.
Study material for second semester modules will only be sent to you at the start of the second semester. Second semester study material will also only be available on myUnisa at the start of the second semester.
All communication sent to you after the initial study package (with the exception of study guides) will be sent electronically to your myLife e-mail account (eg follow-up tutorial letters, examination timetables and results, financial statements). You will no longer receive such communication in printed format.
If you do not collect your study material without a valid reason, you may be charged return costs.
You are encouraged to access your study material online.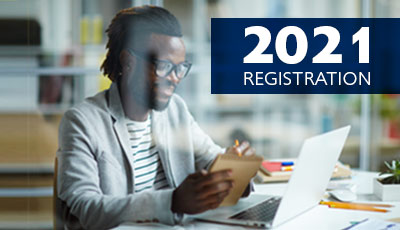 First semester registration: opens on 5 January and closes on 12 February 2021.
Adding modules: login to myUnisa, choose the myAdmin link, click on Student Admin and then click on Register Additional Modules
You will need the following to register on the web  >>>>>
Student number; You must be a returning student or if you are a first-time student (at Unisa), have successfully applied for admission.
E-mail address; Free e-mail for life is provided by Unisa once you are registered. If you have not yet claimed your account, take some time to Claim UNISA Login.
Please note the following:
| | |
| --- | --- |
| You will be notified via a letter, e-mail or SMS once your study material has been posted. The message will indicate a track and trace number for the parcel as well as the despatch date. | Get an estimate of your study fees before you continue with your application. |
To register select << GO >>
Undergraduate Registration <<GO>>
(All undergraduate qualifications including the BTech degree and National Diplomas)

Postgraduate Registration: Honours and Postgraduate diplomas <<GO>>


Postgraduate Registration: Master's and Doctoral << GO>>


Credit card payment <<GO>> OR read the method of payment page <<GO>>
(A note about the security of online payment to Unisa.)