Digital Marketing KPIs or Key Performance Indicators are quantifiable goals that help you to track and measure success. In a changing marketing landscape, such as today in the era of digital disruption, it's more important ever to plan your short-term and long-term KPIs.
KPIs are a useful way for Digital Marketers to set expectations and prove that their work is having a positive impact. To outsiders, the success of digital marketing activity can be seen as difficult to measure but this really isn't the case. In fact, it's normally easier to measure progress for a digital campaign than an offline one.
The aim of this post is to help you set digital marketing KPIs to measure what really matters at the moment, in a way which all parties can agree on. Smart marketing planning is essential for measuring and tracking your progress, and demonstrating value. We'll cover negotiating KPIs, budgeting, and how to tie your KPIs into the Smart Insights RACE Framework.
Setting digital marketing KPIs
The most important part of setting a digital marketing KPI is choosing what to measure. You really don't want to go wrong at this stage but don't worry, it's pretty simple – just make sure you measure factors that will have an impact on your organization's targets or goals.
Often KPIs are connected to a "conversion". In today's competitive landscape, conversions are more important than ever. As a general rule, conversions should be specific (i.e. easily to define and measure) and significantly beneficial (E.G. a user filling in a contact form on making a purchase). You will set targets and goals for each conversion type, so it's vital to focus on the added value to the company with each conversion event.
What should you measure?
Quantifiable metrics which align with the goals of your organization. These will often be sales or leads. If you work for a startup it might be too soon to measure leads but you can always measure reach and engagement.
Leading Indicators. A leading indicator is used by economists to give an indication of which way the economy is headed. A leading indicator is important for reporting because it can show that your time and effort are starting to have an impact even if it hasn't yet had significant results. For example, you might measure how many people have spent over 3 minutes on your site even if they haven't filled in the contact form.
What you shouldn't measure
Things you can't impact. If you can't change it, there's no point in it being a KPI.
Vanity metrics. The classic example of a vanity metric is a Managing Director who wants to be at the top of Google for a keyword that doesn't provide any traffic which converts.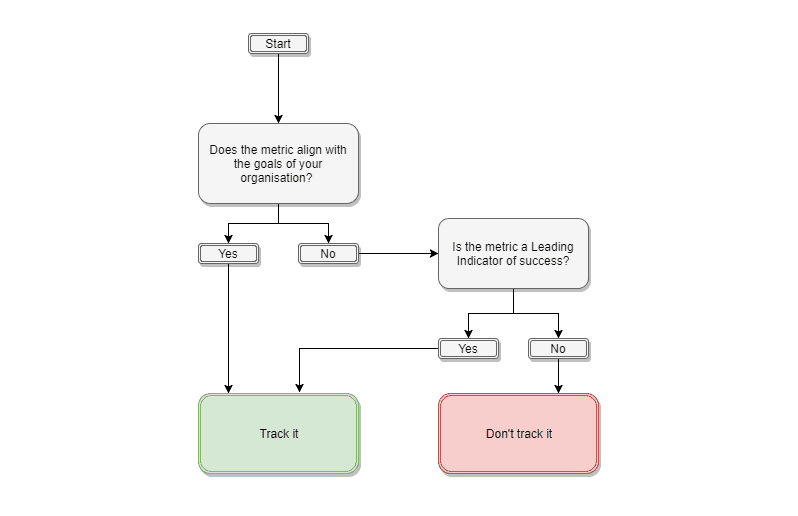 How to set channel-specific KPIs
Some KPIs should be channel-specific and others will relate to overall business goals. Many organizations will need KPIs of both types in order to measure both channel performance and the impact this then has on overall goals.
In larger organizations, different individuals or teams will run individual channels so each should be measured separately. In a smaller team, or this will be divided up in a way that works for your marketing mix.
NB some parts of your marketing mix may need more attention than others, so it's worth planning your priorities in this case, and attributing appropriate resources.
The chart below shows examples of KPIs and Leading Indicators for 6 typical digital marketing channels. I have based these on an E-commerce client so they focus on conversions and revenue.

It's important to note that the channels don't all have the same primary KPI. This is because, in this example, not all channels are likely to have a direct impact on revenue/conversions. For example, it might be unrealistic to expect social media to have a direct impact on revenue depending on your offering. Therefore the primary KPI for social media might be 'reach'.
In the above example, the primary KPI for PPC is cost per acquisition rather than revenue as revenue would only give us part of the picture. Any big changes in PPC budget would have a significant impact on revenue but this wouldn't be an indication that the PPC activity is going well necessarily. It's better to measure cost per acquisition as this takes budget changes out of the calculation.
We've got marketing solutions to help you accelerate your marketing channel performance. Our tried and tested marketing tools and templates empower marketers and managers to optimize and integrate key customer touchpoints across a winning marketing strategy. Join Smart Insights today and enjoy an exclusive discount on your annual membership.